Cannabis has been legal across Canada for nearly a year and a half, but more than 60 percent of consumers still purchase cannabis from "illegal" sources.
In a country where an estimated 4.2 million people consume cannabis, spending nearly $1.6 billion on the substance in 2018 alone, why would the majority of Canadians flock towards online sales? Why not purchase it through official, government means?
The question we need to ask is why Canadian dispensaries are failing to win over consumers.
A small part of this can be contributed to the sheer time-saving convenience that online shopping can provide to consumers. However, the primary reason why Canadians prefer to buy their weed online is because, simply put, government dispensaries are just not able to satisfy consumer demand.
So far, government dispensaries have shown that they offer extremely unaffordable pricing, a lack of cannabis products (such as edibles) that consumers have grown accustomed to using, and just all-around lower quality.
Let's take a deeper dive into why more and more Canadians are resorting to shopping online for all of their cannabis needs.
What Makes An Online Shopping Experience Worthwhile?
Recent statistics suggest that approximately 22 percent of the world's disposable income is being spent digitally through online retailers and businesses.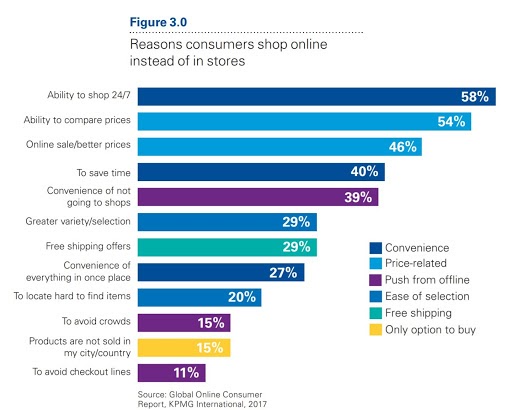 According to KPMG, a multinational accounting organization, the top 5 reasons why consumers decide to shop virtually instead of in brick-and-mortar retail stores are:
The ability to shop 24/7
The ability to compare prices
Better prices online/better sales
To save time
Convenience of not going to shops
Taking out simple time-saving and convenience reasons, the top 5 reasons that consumers shop online are:
The ability to compare prices
Better prices online/better sales
Greater variety/selection
Free shipping offers
To locate hard to find items
The convenience that online shopping offers along with better prices, greater product variety and free shipping have led to 14.6 percent of total retail sales now being exclusively online – a US$4.1 trillion industry.
When it comes to the mail-order marijuana industry, consumers are presented with a lot of choices. Indeed, it is online where the lowest prices for cannabis are found.
According to CBC, the gap in prices between government cannabis flower and mail-order marijuana flower is "now as wide as CAD$4.72 a gram."
It's clear that mail-order marijuana dispensaries have better prices and better sales, but what about product variety, free shipping offers and the ability to locate hard to find items? What about finding out about products that you needed but didn't know existed?
Let's take a look at 2 prominent online mail-order marijuana dispensaries and see how they stack up against each other when compared to the above criteria.
WeedSmart vs. Herb Approach – Which Dispensary Has Greater Product Variety?
One pain point that many government dispensary customers have is a frustration with product variety.
Edibles are a convenient alternative for cannabis consumers who can't inhale the smoke or vapour from joints/bongs and vaporizers. But edibles are either unavailable or available in such a limited supply in government stores that consumers are often left with little to no choice.
Edibles have just been legalized as part of Canada's cannabis 2.0. But the pickings remain ever slim with only 23 possible products that offer a maximum of 10.00mg of THC per pack.
If you're a regular consumer of edibles, then you know that 10mg of THC is extremely limiting, especially for medical users. Paying upwards of $7-$10 for a pack of 10mg edibles is not economically feasible.
As a regular consumer of cannabis and cannabis products, product variety is a huge factor in deciding which dispensary to spend my money at.
A quick look at WeedSmart shows that they offer edibles from 7 vendors and CBD products from 8 vendors producing a total of 15 vendors which they do business from. Working with 15 vendors is a lot, but it actually falls short of the 23 brands that government dispensaries offer themselves.
Conversely, Herb Approach's vendor directory displays their partnerships with over 80 vendors.
Personally, visiting multiple grocery stores in order to source my groceries for that week is time consuming and annoying. The convenience of a one-stop-shopping experience is invaluable, and it's an experience that Herb Approach is able to offer extremely effectively.
Comparing WeedSmart vs. Herb Approach Prices – Which Dispensary has Competitive Pricing?
When it comes to the factors that influence whether or not a sale is actually made, pricing is probably the most important. It doesn't matter how great the customer service is or how much product variety a store can offer – if the price isn't right; customers will walk.
Competitive pricing is an element that WeedSmart has really capitalized on. Offering "budget buds" and bulk prices for large orders of flower (8 and 16 ounce options) is not something that you see regularly from mail-order marijuana dispensaries.
However, in spite of their bulk pricing, their flower is still relatively expensive when compared to the likes of Herb Approach. WeedSmart prices 28 grams of Death Star at $199 regular price whereas Herb Approach's "flash deals" page has the same strain at $170 for 28 grams.

While WeedSmart does offer bulk pricing, my experience with Herb Approach's "flash deals" page has been absolutely stellar. $165 for 28 grams of Rockstar OG is amazing and to be quite frank, not something that other dispensaries can match. Coupled with their extensive and exhausting product offerings, Herb Approach is the clear winner in this category.
Customer Service and Support – Who's Friendlier and More Trusted?
How often have you experienced difficulties with payments processing properly, shipping issues or just general product inquiries while online shopping? Worse yet, what about submitting an email inquiry form and the business getting back to you after a week, after you've already lost interest?
For all of its perks and benefits, online shopping definitely has its downsides as well, and poor customer service and support is one of them.
Unfortunately, it seems that WeedSmart is not exempt from these limitations.
While they do offer "chatting" services, the messages you ask them are met with automated replies and ultimately end with WeedSmart requesting your email address so they can contact you with their reply – however long that will take.
Personally, it's disingenuous to offer "chatting" services while only offering automated, bot responses; especially when other mail-order dispensaries such as Herb Approach actually offer effective chat services.
Live chat on Herb Approach is actually live. The experience of chatting with a real, live person and having my questions and concerns answered in real time is nothing short of amazing.
Even for someone like myself who is well versed in the cannabis industry and has no need to answer questions, Herb Approach's live chat service is still invaluable in offering new product recommendations and addressing online shopping concerns such as shipping and payment problems.
It goes without saying that this kind of live, customer service is indispensable for new, novice cannabis users who don't know much about cannabis and are looking for first-time product recommendations. The added fact that their live chat agents are actually fluent in English and knowledgeable in their product recommendations adds another factor of trust.
WeedSmart or HerbApproach? Which Will You Choose?
Customers looking for the best mail-order marijuana dispensary have a lot of choices. There are probably twice as many mail-order marijuana dispensaries on the internet as there are government dispensaries. Faced with such an abundance of options, how do you pick out the best one?
We've been able to have an in-depth look at two of the internet's most prominent online dispensaries, and if anecdotal experiences carry any weight at all, the verdict is clear on which mail-order marijuana dispensary is the best.
The extensive product variety that Herb Approach alone should be enough to secure their spot as the #1 online dispensary. Their competitive pricing and excellent customer support are just icing on the metaphorical cake. I haven't even mentioned their weekly promotions, customer loyalty point system or their $25 sign-up bonus for new members.
Whether you're new to the marijuana scene or just simply disappointed by government dispensaries, do yourself a favour and give mail-order marijuana dispensaries a try. If you go with Herb Approach, we personally guarantee that you won't be disappointed!