For those who are fans of Hunter S.Thompson, you're probably aware of his out-spoken views on drugs and drug use. Although most of the substances he was ingesting were not very good for the mind, body or soul, he was a very big supporter of cannabis and its legalization. Now, thanks to Hunter S. Thompson's widow, Anita Thompson, we finally have the opportunity to honor the 'Good Doctor of Gonzo journalism' by smoking strains of weed recovered from his personal stash.
Anita Thompson revealed the news last November in a Facebook post that read: "I have found a legal method to extract the DNA from Hunter's personal marijuana and hash that I saved for 12-15 years. I am in the process of making the strains available to those who would like to enjoy the authentic Gonzo strains in legal states."
Who wouldn't enjoy toking on some of the Doctors strains while reading some of his work? From East to West, North to South, tons of Hunters' work has been well received, influencing a generation of writers who were ready to step outside the box.
Hunter S. Thompson, the author of the acclaimed cultural touchstone Fear and Loathing in Las Vegas, was one of the writers skilled enough to have their work officially canonized by the Modern Library while still alive. A breathtaking feat on its own, Thompson managed to pull everything off while high on a number of drugs ranging from whiskey to mescaline to "high-powered blotter acid."
While we don't condone the use of such substances, it's always good to listen and learn when someone has ample experience on a certain subject. I'd take the advice of a financial analyst who has a large net worth and years of experience in dealing with investments if he so happened to be talking about money. Thus, I'm likely to lend a faithful ear to Hunter S. Thompson's expertise when it comes to the best weed strains.
Hunter S. Thompson Loved the Best Weed Strains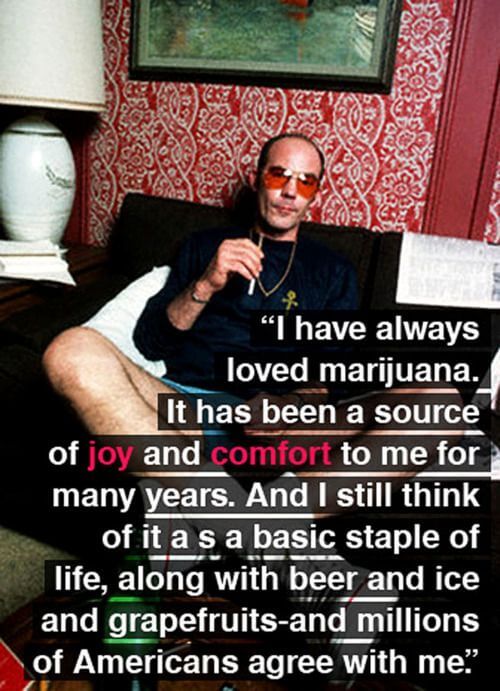 "I have always loved marijuana." Hunter S.Thompson once said. "It has been a source of joy and comfort to me for many years. And I still think of it as a basic staple of life, along with beer and ice and grapefruits—and millions of Americans agree with me."
Anita's decision to make public these highly sought-after weed strains is good news for cannabis enthusiasts. By purchasing and smoking Hunter's personal strains of weed, you won't only be enjoying, what I can only imagine being, world-class marijuana—you'll also be supporting the work of young journalists, as purchases of his stash will support The Gonzo Foundation – a non-profit which supports University endowments for students majoring in journalism.
Unfortunately, Hunter's personal strains of weed will only be made available in states where marijuana is currently legal, which does not include the author's home state of Kentucky. While this is very unfortunate, we're sure his strains will spread like the wildfire his literature did. If you want to light up some top-shelf strains while enjoying the legend's writing, check out our huge selection of flower!