Donut bites – a warm, soft and fluffy pastry popular year-round during festivals, carnivals and other celebratory events – need no introduction. Light and chewy yet soft and crispy, even the mere mention of their name causes people to salivate!
But what if we could make them better?
While these bite-sized balls of deliciousness are already a fan-favourite, you can up the ante by infusing a bit of everybody's favourite plant in them!
We are, of course, talking about weed-infused donut bites!
Incredibly easy to make and fried in cannabis-infused coconut oil, this is one dessert you won't find at your local city fair or carnival!
If you want to get blitzed off of some tasty cinnamon-sugar-dusted donut holes, you'll come to the right place. But before we get into the how of the recipe, let's explore why you should make infused donut holes and what they actually are!
What Are Weed-Infused Donut Bites?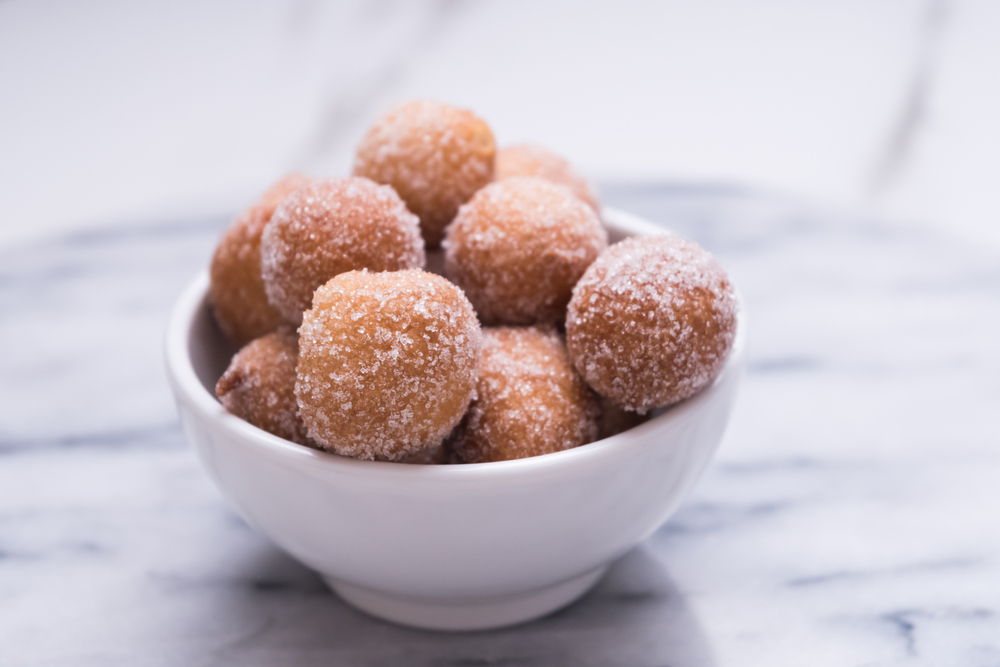 Believe it or not, donut bites were traditional! made from the left-over cut-outs of actual donuts! When donuts are made, the dough has to be rolled out and cut into the classic donut shape that we all know and love.
With one donut being equivalent to around four donut holes, it was in the chef's best interests to re-incorporate these lil' bits of dough back into the central preparation to save on food costs and wastes.
Eventually, one crafty (or lazy!) baker had the idea to fry up the balls of dough themselves instead of incorporating them back into the dough, and the rest is history!
But enough with the history, let's get into how to make weed-infused donut bites!
How to Make Weed-Infused Donut Bites
Weed-Infused Donut Bite Ingredients
2 cups all-purpose flour
1/2 cup sugar
1 teaspoon baking powder
1 teaspoon ground cinnamon
1/4 teaspoon of ground nutmeg
1/4 teaspoon salt
1 large egg (beaten)
1/2 cup milk
3 tablespoons cannabis-infused butter (melted)
1 cup cannabis-infused coconut oil (available on Herb Approach) for cooking + 2-3 additional cups of regular coconut oil
1 kitchen thermometer
Cinnamon Sugar Coating
1/2 cup sugar
2 teaspoons ground cinnamon
Steps and Directions
Cinnamon Sugar
To make your cinnamon sugar coating, simply mix ½ cup of sugar and 2 teaspoons of ground cinnamon until well combined. Once mixed, set the mixture aside until you're ready to coat your weed-infused donut holes.
Weed-Infused Donut Bites
Begin by taking one cup of your cannabis-infused coconut oil (available on Herb Approach) plus 2 to 3 cups of regular coconut oil (depending on the size of your skillet) to a large skillet and heating it to 350 degrees Fahrenheit. You will need a kitchen thermometer to determine and maintain this temperature
To prepare the batter, whisk together 2 cups of all-purpose flour, ½ cup of sugar, 1 teaspoon of baking power, 1 teaspoon of ground cinnamon, ¼ teaspoon of ground nutmeg and ¼ teaspoon of salt. In a separate bowl, beat 1 egg
Create a well in the center of your dry mix and add in the beaten egg. Whisk until combined.
Once combined, slowly add ½ cup of milk and mix until combined.
Melt 3 tablespoons (or more) of cannabutter in the microwave before adding it into your donut batter. Whisk to combine
Once the oil's temperature is 350 degrees Fahrenheit, you can begin carefully dropping in one levelled-off tablespoon portion of batter into the oil. Depending on the size of your skillet, you can do about 6-8 donut bites per batch, just be careful to not overcrowd the skillet.
Fry the donuts for roughly 2 minutes on each side or until golden browned.
Once cooked, remove from oil and place on paper towel-lined rack or plate to cool.
While still warm, drop your donut bites in your cinnamon sugar coating and roll them around until coated. 
Enjoy! 
In just 10 easy steps, you can make weed-infused donut bites at home that'll rival those available at a festival or carnival! The best part of all? They're infused with weed!
While we don't recommend popping more than five of these sugar-dusted delights into your mouth at once due to their potency, you can reduce the amount of cannabutter and infused coconut oil in the recipe for a lighter buzz! 
You can also make regular donut bites by adding regular butter instead of cannabutter into your batter, or by just frying the donuts in regular oil instead of weed-infused coconut oil. Whatever option you go with, the choice is up to you!
These donut bites are best enjoyed hot and trust us – they go fast! If you're having some 420-friendly company over, a plate of these is all it takes for everyone to get high and happy! We do hope you try this recipe out for yourself because it's just so incredibly irresistible!
Until next time, happy trails!