Christmas is nearing and it's time to get festive, and what better way to spread some jovial cheer than with some festive strains?
The holiday season has oft been associated with seeing our loved ones and those nearest and dearest to us, and if you're part of a family that thinks it traditional to unite every aunt, uncle, cousin, and in-law together in one huge festive fam-jam, you're probably going to need a little sticky-icky to help you get through the difficulty!
Conversely, if you're far from home, find it difficult to meet with family, or simply don't have many family or friends available to cozy up for the holidays, this month can be a profoundly lonely and difficult time. The blistering cold outdoors limits the things we can do outside and the cold, overcast skies aren't much help either.
Fortunately, your favourite plant and online dispensary are here to spread some cheer!
We've collected 5 of what we think are some of our most festive strains for you to enjoy and savour over this holiday season to help connect with your loved ones, find that holiday spirit, and help you get through it.
Let's get into it!
Festive Strains List
Jack Frost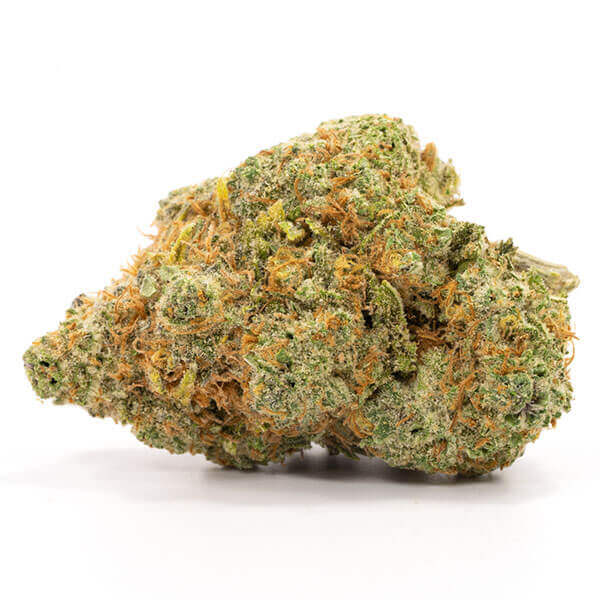 Named after Father Winter himself, this frosty strain is #5 on our list of most festive strains for its citrusy, holiday flavour and warm, social effects.
A three-way combination of the already famous strains of Northern Lights, White Widow, and Jack Herer, this sativa-forward strain is has a sweet, woody smell with a slight citrus tang that makes it incredibly easy to enjoy.
If you're stuck in a difficult social situation and find it hard to connect with your family and friends, Jack Frost is perfect at providing a bit of social lubricant to get those smiles curling and get that laughter erupting.
As a sativa, this festive strain is ideal for treating anxiety (social and otherwise), loss of appetite (to stuff down more of that Christmas feast), and stress. With an average THC content of 20 to 22%, Jack Frost is one strain that'll help keep you cool and collected even in the midst of the most difficult of families!
Permafrost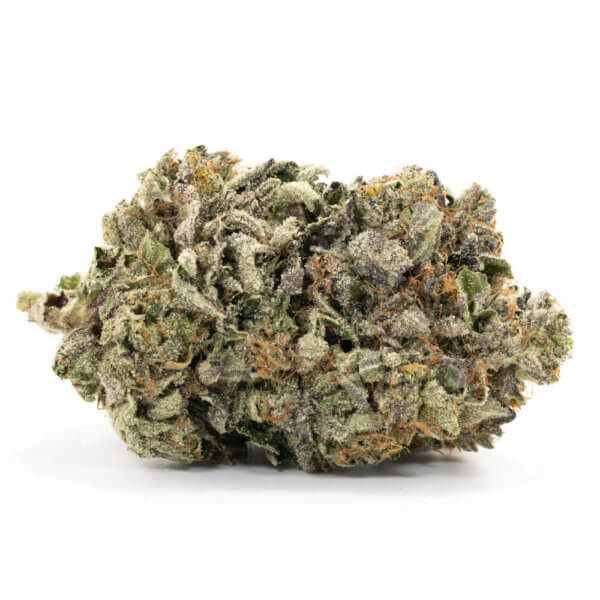 Keep things icy with this cool and slick strain.
The lovechild between Trainwreck and White Widow, Permafrost is a sativa-dominant strain that's appropriately named for its thick coating of frosty white trichomes.
A hybrid strain, Permafrost is perfect to enjoy in the morning while canvassing the fresh blanket of snow that fell overnight or in the evening to help keep you warm and cozy inside. Permafrost provides its users with a huge influx of creative and active energy, making this festive strain a good choice to help you clean the house or prepare that luxurious Christmas feast.

Permafrost is effective in alleviating stress, anxiety, and fatigue, and it can help treat nervousness and tension brought on by the winter blues or depression-related disorders such as Seasonal Affective Disorder. This festive strain has an average THC rating of 16-18% and will help you keep things frosty.
Super Silver Haze
Super Silver Haze isn't any silver bells, but this award-winning strain will have you singing all the same.
Winner of the Cannabis Cup for many years beginning in the early 1990s, Super Silver Haze is a Winter Star. Developed by Greenhouse Seeds in the 90s by Mr. Nice Seedbank, this festive, sativa-forward hybrid strain brings the best of both worlds together with its suite of energizing yet soothing effects.
Super Silver Haze begins with an energizing, stimulating high that puts you on your feet. While it doesn't increase focus, it will provide users with profound and thought-provoking ideas – you might even start to wonder why "Silver Bells" starts being played before November is even over!
After this festive strain's sativa buzz fades, Super Silver Haze tapers down into its indica effects. Calming, soothing, and relaxing, you'll feel all of your worries, stress, and anxiety melt away as your body prepares itself for sleep.
Super Silver Haze is ideal for helping you to get through what can sometimes be an arduous holiday dinner and then preparing you for sleep shortly after.
White Widow
You might see this strain and think "hey, this isn't related to the holidays at all!"
However, just one look at this strain's snow-capped appearance will make you into a believer. Despite its name, this festive strain is notorious for its insane resin and trichome production. White Widow strain has a whitish-gray appearance. This color comes from the dense crystallized trichomes.
These buds are often sticky from all the resin that these trichomes produce, filled with valuable compounds like THC and terpenes. Described as looking more like Sativa dried flower, the buds are fluffy but also dense. You will not see many pistils, those orange or brown hairs commonly seen on buds.
The White Widow strain ranks #2 on our festive strains list for its amazing happy and euphoric effects. Just a few puffs of White Widow will make for stimulating talks with your friends and family and help keep you socializing even through the driest of conversations.
Love Potion #9
This might be Love Potion #9, but this strain is #1 on our list.
The reason? Simple. The holidays are, at their most basic, all about love. It's about connecting with your family, friends, and loved ones, and there's no strain better at helping facilitate just that than Love Potion #9.
With an average THC content of 24-26%, this incredibly potent, indica-forward strain delivers intense feelings of joy, euphoria, and bliss that won't leave you too riled up. Instead, it relaxes and soothes the body with its spicy, fruity, and cheesy holiday flavours.
Another plus? Love Potion #9 can help bring about some lovey-dovey feelings that will help elevate that sensual connection with your partner. 
When it comes to cuddling and cozying up with a partner in the cold, cold winter; there's no better choice than Love Potion #9.
Festive Strains – The Final Hit
The holidays are what you make it, but that doesn't mean that you can't employ the help of some extra festive strains!
While these christmas strains won't taste of candy canes, figgy pudding, or cranberry sauce, they will definitely energize you to decorate the house, help you navigate through difficult family dinners, and just put you in a jovial, festive mood.
Don't give these strains the cold shoulder, order today through your favourite online dispensary and enjoy the holidays the way they were meant to!