Cannabis has been legal in Canada since 2018, yet, it's a great deal of time to find the best and strongest edibles Canada.
Those who have experience with marijuana know how hard it is to get potent edibles from the Canadian market. For people who rely on cannabis edibles for their medical benefits, it's not even an option.
Luckily, we at Herb Approach are here to change that for the better.
Finding the strongest edibles Canada does not need to be a hassle. Today, we will provide you with everything you need to know about edibles in Canada, the best edible brands in Canada and where to find the top edible products.
Let's dive right in!
Strongest Edibles Canada – What are They?
Every person has a different tolerance to cannabis and can experience different results after consuming cannabis edibles.
Factors such as age, weight and height all affect how they will respond to cannabis-infused edibles and experience a high.
For that reason, there is no official definition of strong edibles. For some, 20mg is a small dosage; for others, it can lead to experiencing side effects of cannabis.
In general, once you go above 100-200mg, it is considered a high dosage and going over 200mg means that you will be ingesting an extremely high dosage of THC.
Where to Find the Strongest Edibles Canada?
Your best bet would be to order from an online dispensary.
Local dispensaries carry low THC edibles, and legally they are required not to sell packages over 10mg THC. What's more, the edibles they sell are also more expensive than what you buy online.
Many online dispensaries in Canada offer high-quality and, most importantly, potent products that can exceed far more than 10mg, sometimes reaching 1000mg THC.
That said, here is our list of the top three strongest cannabis edibles you can spot online in Canada.
The Most Potent Cannabis-Infused Edible Products
Indica Milk Chocolate 1200mg Shatter Bar (Euphoria Extractions)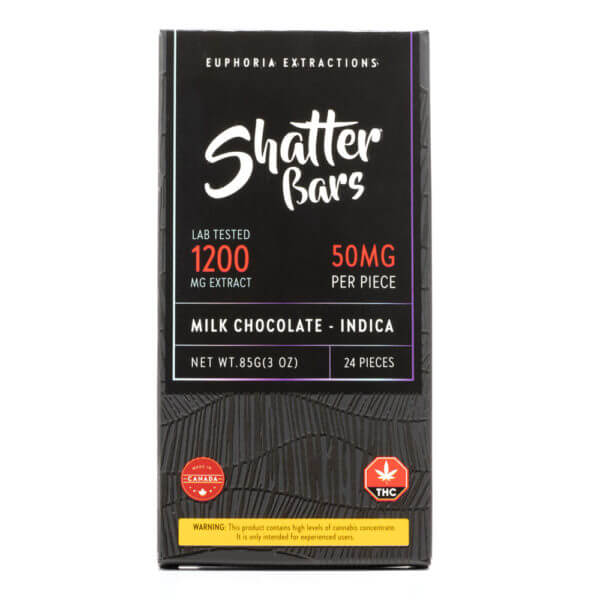 Indica Milk Chocolate Shatter Bar by Euphoria Extractions is a lab-tested, full-spectrum chocolate bar.
It comes with a whopping 1200mg of THC that can knock out the most experienced cannabis enthusiast and takes the cake as the strongest edibles Canada has to offer.
For recreational users, 1200mg of THC is absolutely insane. 10mg will be enough for most casual users, with some intermediate users requiring 100mg or 150mg to feel an effect. Advanced users might need 300mg to 500mg, but at 1200mg, you're likely to end up in a 'cannatonic' state.
Euphoria Extractions is a well-trusted brand that fine-tuned its craft over the years, using different ingredients and extraction methods. After years of testing different extraction methods, they've come up with products that provide the same experience each and every time, though we're not sure how often you'll need 1200mg of THC!
Try their chocolate bar and check the benefits for yourself. Trust us. You won't be disappointed.
Black Cherry 900mg Chocolate Cube (Mota)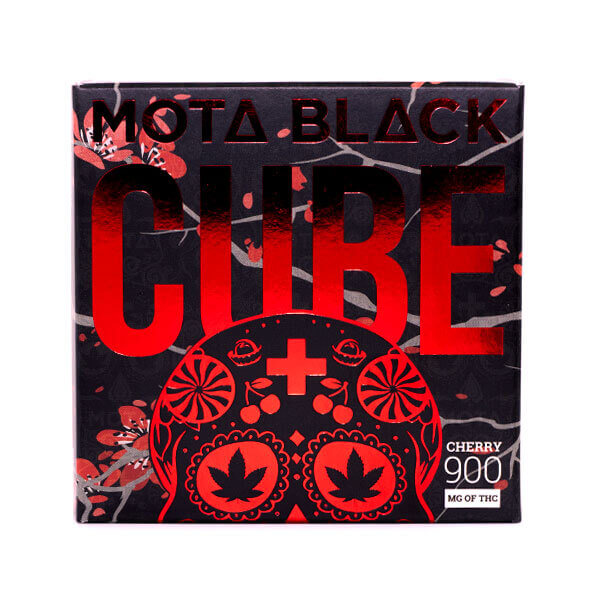 Mota's Black Cherry Flavour Black Chocolate Cube packs 900mg of THC per pack.
Impressive, right?
Made from potent THC distillate, each box comes with nine pieces that are 100mg of THC each.
We don't recommend using this product if you are a novice smoker; however, this product packs a punch for those looking for the strongest edibles Canada online.
THC edibles offer a convenient, discreet, and healthy way to medicate with cannabis. Unlike smoking or vaping cannabis flower, they don't cause lung irritation, and they deliver a measurable and accurate dose of THC.
Try them out and experience the (second) strongest high in your life!
Frank'N Stein 500mg THC edibles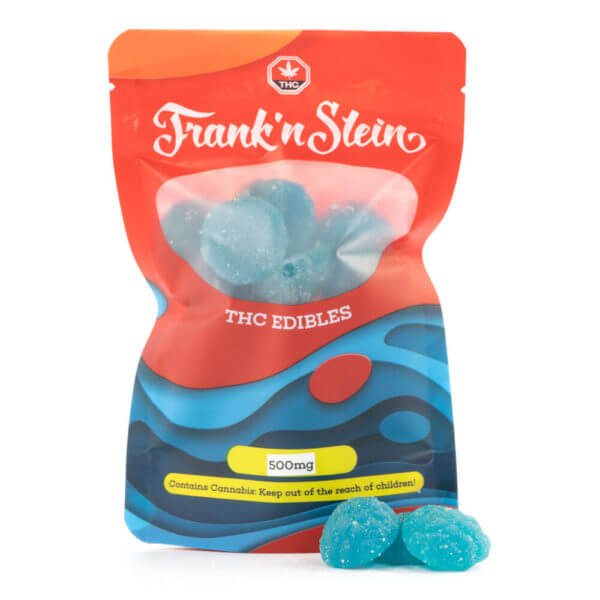 Frank'N Stein 500mg THC edibles is another (comparatively) less potent yet great cannabis product that you can use to medicate with cannabis in a convenient, discreet, and healthy way.
Crafted in beautiful British Columbia, Frank'N Stein 500mg THC edibles are a fun and nostalgic way to medicate.
They come in a variety of classic, candy-shop flavours, including berry, raspberry, cherry, cupcakes, grapes and watermelon, to name a few.
When ingesting these sweet marijuana edibles, start with a fraction of one and allow 60 to 90 minutes for effects.
And remember the important rule of cannabis: Start low, go slow to avoid greening out from these potent cannabis products.
Best Brands to Offer the Strongest Edibles in Canada
When it comes to the strongest edibles in Canada, there are a few brands that you can look out for.
Here's our list of the well-trusted brands that you purchase your edibles from:
Best Edibles in Canada – Look for Online Dispensaries
The best weed edibles can be found at online dispensaries. Since local dispensaries don't sell cannabis edibles over 10mg THC per package, we recommend trying mail-order marijuana dispensaries (MOMs) and discover for yourself why online dispensaries are better.
Keep in mind, if you wish to try the strongest edibles Canada, make sure you are buying them from a trusted and well-known dispensary.
All in all, it's important to exercise caution when dosing edibles because they take a while for you to notice the effects of THC. Wait for around 30 minutes to 2 hours before taking the next dose to avoid any side effects.
Happy trails!