If you enjoy bongs as much as I do, then there's almost no better feeling than grabbing your favourite piece and busting out some ganja. I've had more bongs than I can count in my life, but I'm happy to say my current love "Marla" has been with me for over a year now.
Glass pipes, bubblers, and bongs come and go like the wind. One day you have a beautiful blue bubbler in your hands, making huge smoke clouds and seemingly enjoying the hell out of its life. Next thing you know there's a million pieces of glass on the ground and your cat has that evil look she's so very fondly of throwing in your face.
Although it can be a disheartening feeling to lose a member of the squad, they can usually be easily replaced for under 100 bucks. Well, I can tell you this much, if I owned any of the bongs below, you can guarantee I wouldn't let anyone without bubble wrapped hands in a bouncy castle handle it.
These are 10 of the craziest and most expensive bongs in the world.
10. ME Glass X Blitzkriega Balloon Giraffe – $7,000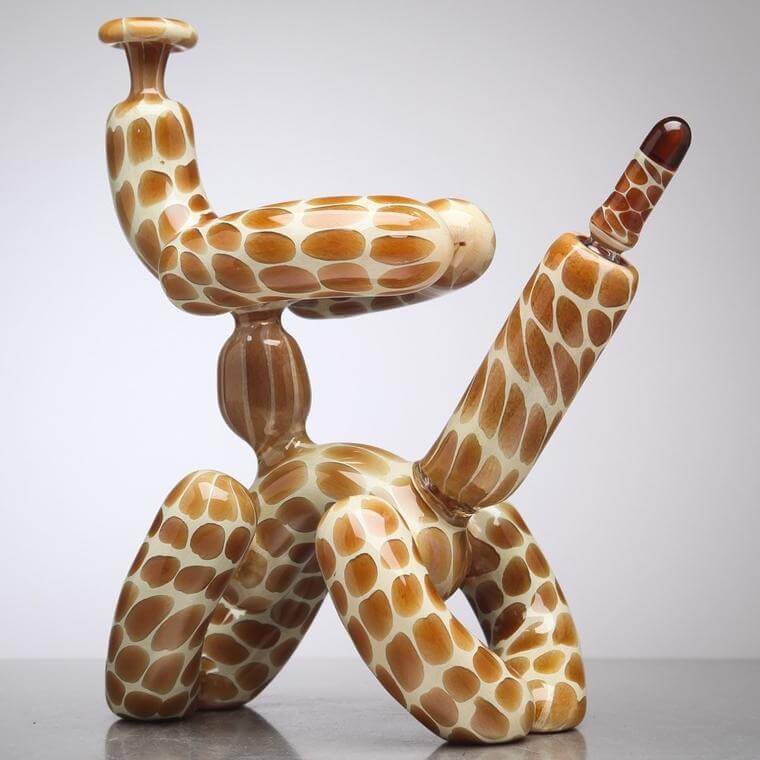 I personally love giraffes and animal-shaped balloons. A balloon giraffe bong is truly the next level though. This beautiful piece by ME Glass X Blitzkriega is one of a kind, and always sure to start a conversation.
9. Burtoni & Euphoria "Squid Chopper" Hybrid – $7,000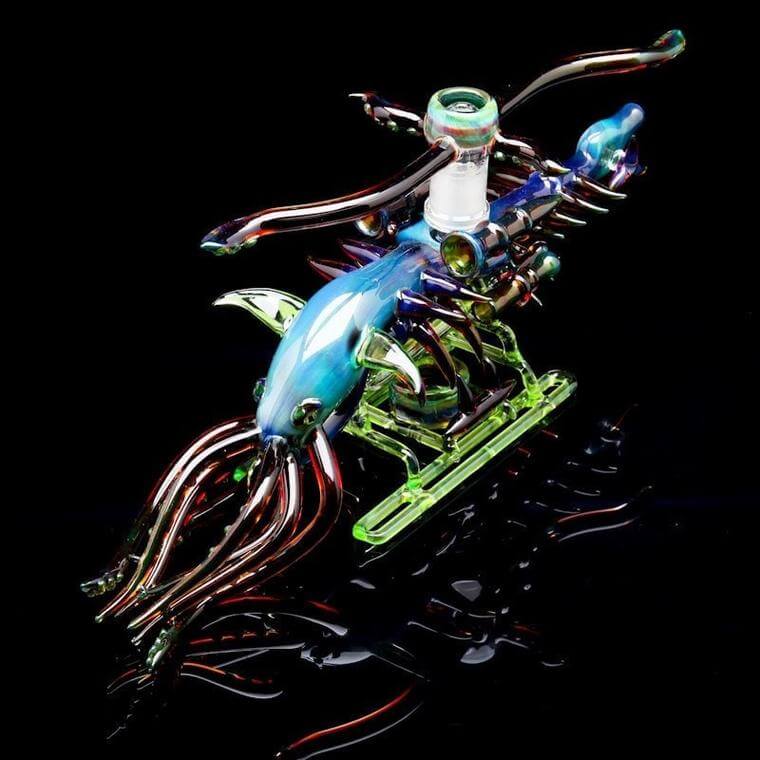 Really the name says it all. The "Squid Chopper" is the cross between a sci-fi nightmare and a thing of beauty. This piece will run you back a cool $7000, but you can never put a price on art.
8. Scott Deppe's Grateful 4 Mushrooms – $14,000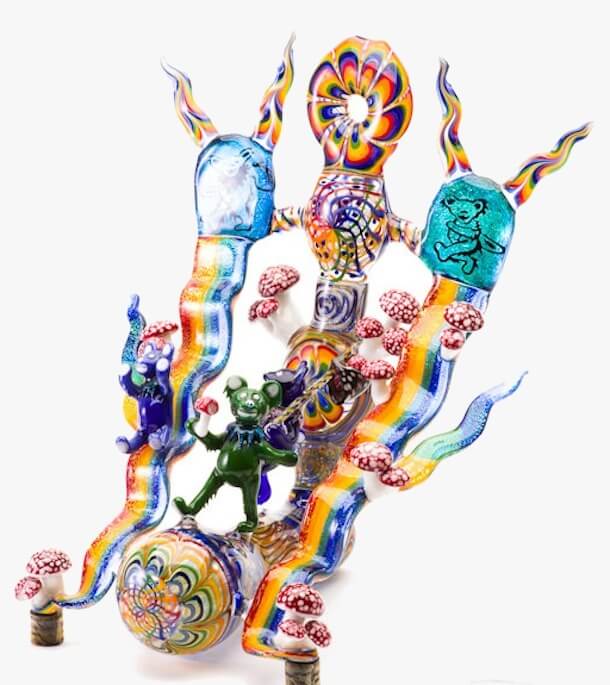 If you've never heard of the name "Scott Deppe" don't worry, we have plenty of his extraordinary work to show you. Scott has produced some of the most amazing and outlandish bongs known to mankind. Grateful 4 Mushrooms is truly special with its use of color. I'm pretty sure I know where he got the inspiration for this glass pipe from.
7. Scott Deppe's Take Me 2 The Mothership – $20,000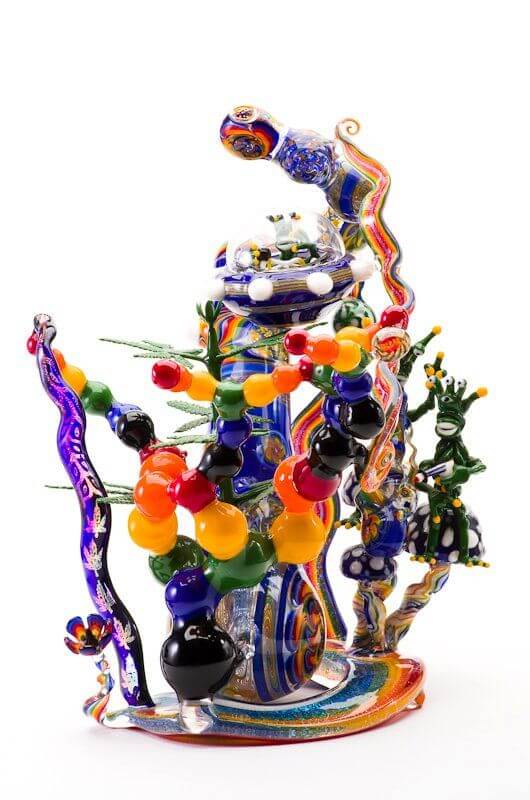 As I said, there's plenty of Scott to go around on this list. Take me 2 the Mothership is another "out of this world" design that really makes you wonder how someone even makes this up.
6. Illuzion Glass Galleries 2017 Annual 420 Party Collaboration Vabor Bubbler by AKM, Cowboy, and Darby – $30,000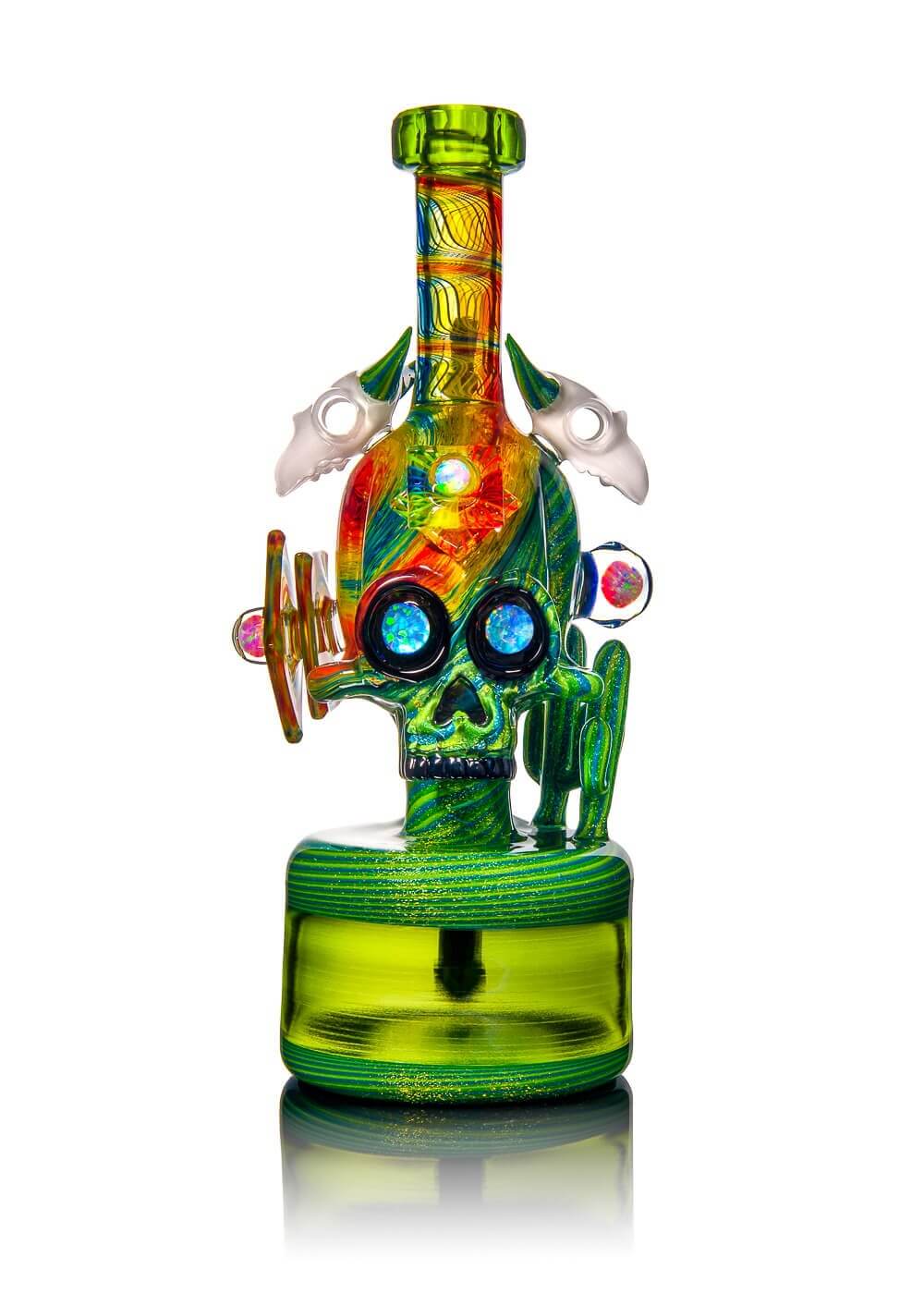 When the world's finest glass artists come together to create the Illuzion Glass Galleries annual 420 party piece, you know the results are going to be audacious. This amazing collaboration by AKM, Cowboy, and Darby stands 11″ tall and features each artist's talents and trademarks to the fullest.
5. "Double Rainbow" Bubbler and Hand Pipe Collaboration Set by Adam G., Darby, Buck, 2BA, and Eusheen – $33,000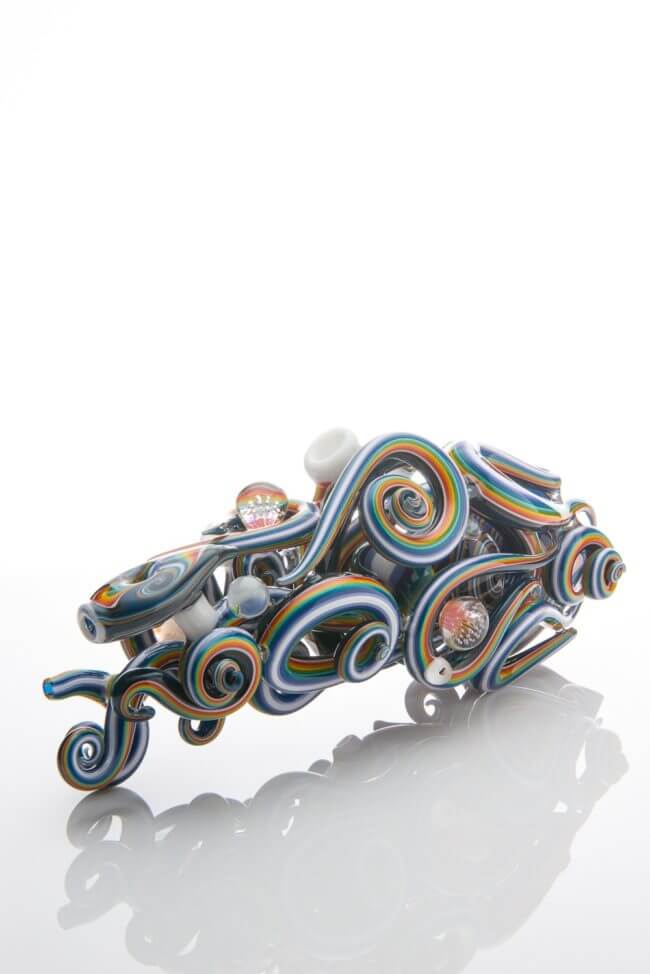 Inspired by the viral video "Double Rainbow," This amazing mega collaboration came together at the 2010 Colorado Project. The Double Rainbow is actually two pipes combined. The top is a stemless bubbler, and to the side is dry.
4. Pirate Ship Bubbler – $30,000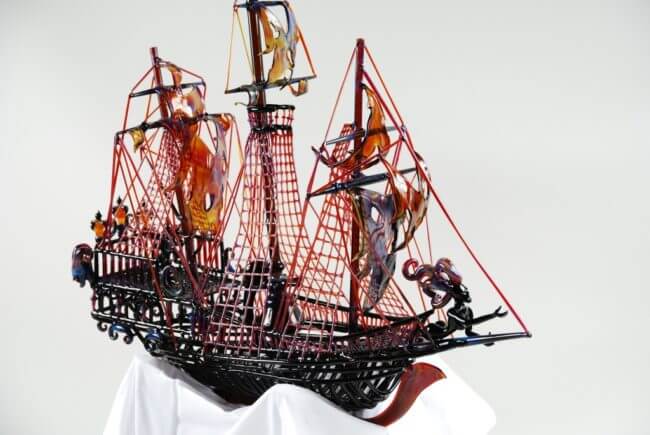 Why sail the 7 seas when you can smoke on several trees? This pirate ship bubbler will have you talking like a sea captain whether you want to or not. For only $30,000 you can have your very own pirate ship to bring along all your first mates and ladies on a kush cloud.
3. Roor Skull Gun – $90,000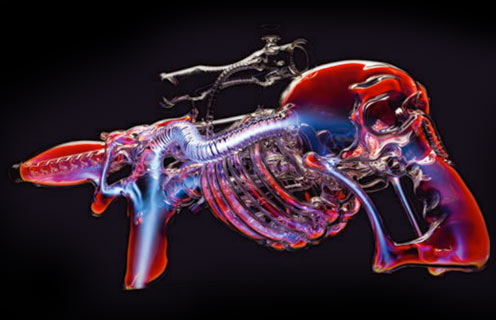 Roor has been making bongs for the common smoker longer than I can remember. Let's just say this piece is definitely not for your average toker. The skull gun truly reminds me of something out of Call of Duty Zombies. Except for destroying zombies, it creates them.
2. Scott Deppe's Gold Encrusted Skull Bong – $100,000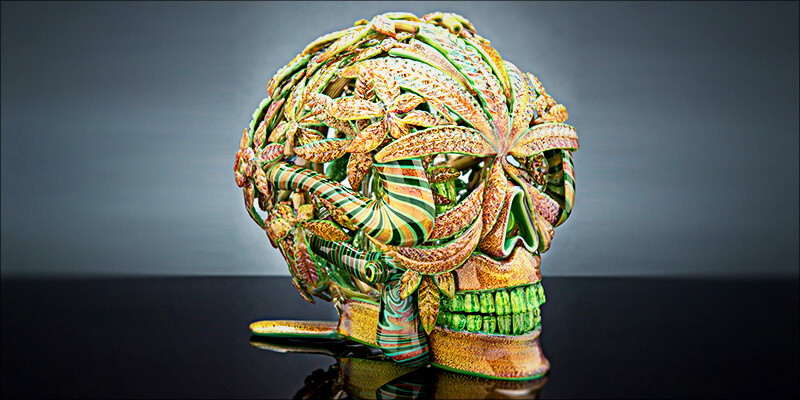 If you've never watched Indiana Jones, this bong is what the movie is based off. Harrison Ford dodges dangers to find this legendary gold-encrusted bong that was originally sent down by Lord Cthulhu. Actually, that guy we've been talking about, Scott Deppe took glass pipe engineering and art to another level. For the price of a 2 bedroom apartment in Detroit, you can own your very own artifact worth being tomb raided for.
1. "The Throne" Bubbler Collaboration by Clinton Roman, Scott Deppe, Darby Holm, and Banjo – $1,000,000.00
Now for our final trick, we reveal to you the piece d' resistance. "The Throne" really is the king of all glass pieces, any other claiming they need a reality check. "The Throne" is considered to be one of the most iconic and legendary functional glass pieces in the industry.
Standing nearly two feet tall, this mega collaboration was constructed in 2010. The skulls, made by Scott Deppe, remove from the top revealing the mouthpiece, and the structure itself was assembled by Darby Holm using the Deppe's Darkness colour. Banjo constructed the one-foot tall goddess that sits upon Darby's lattice of bones.
The airflow of this piece begins at the push bowl, where it travels down into a large natural percolator and then on up the skeletal backbone to the mouthpiece. Since this piece was first exhibited, there have been several similar pieces created, but this one will always be considered the true original. "The Throne" can be viewed at Illuzion Glass Galleries in Denver, Colorado, USA.